SDI Radii Plus LED Curing Light
Not just a powerful LED curing light Curing? Whitening? Transilluminating? The Radii Plus does it all. The amazing transformation takes place with a simple pull and click of the LED attachment. It's unique, easy to upgrade design, provides unlimited potential making it the best investment you will ever make! High intensity – 1,500mW/cm2 The higher the intensity, the more the… Read more
---
Promotions
Description
Not just a powerful LED curing light
Curing? Whitening? Transilluminating? The Radii Plus does it all. The amazing transformation takes place with a simple pull and click of the LED attachment. It's unique, easy to upgrade design, provides unlimited potential making it the best investment you will ever make!
High intensity – 1,500mW/cm2
The higher the intensity, the more the light penetrates to efficiently cure the restorative.
Simple to replace parts
Designed with snap-in or screw in connections, each part of the Radii Plus including the battery is easy to remove and replace.
Ramp mode (soft start)*

You have a choice. The Radii Plus is initially set up without a ramp. When the ramp mode is selected, the Radii Plus' light output power gradually increases during the first 5 seconds. This minimises polymerization stress in the restoration. To switch between modes, hold down the on/off button until audio beeps are heard. A blue light comes on when the ramp mode is activated.
Pulse technology
Using a combination of pulse technology and steady current, the Radii Plus can achieve a higher light output without generating excess heat.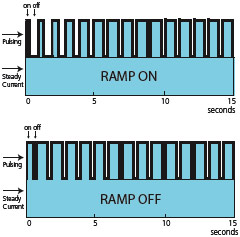 5 year warranty**
The Radii Plus' robust and reliable construction assures your investment is long lasting. The standard Radii Plus unit has a 5 year warranty. The battery section has a 2 year warranty.
Depth of cure
Radii Plus' up to 6mm depth of cure enables more complete curing of the restoration. This ensures interfacial adaptation and longevity of the restoration.
Efficient energy use 
The light emitted by the Radii Plus corresponds to the maximum absorbance of camphorquinone ensuring efficient curing of most light cured dental materials.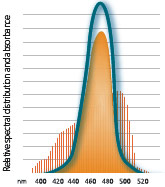 Optional tacking tip
Autoclavable tacking tips (1mm and 2mm openings) are available for veneer procedures. Simply place over the lens cap.

The single tooth and full arch bleaching LED attachments are designed for use as an adjunct to in-office tooth whitening systems such as Pola Office+.
No UV emissions
Unlike many other bleaching lights on the market, the Radii Plus Bleaching LED attachments do not emit any harmful ultraviolet light.
Unlimited number of uses
Whilst some other companies require the purchase of a special in-office whitening system for use with their light, the Radii Plus is suitable for use with most whitening products.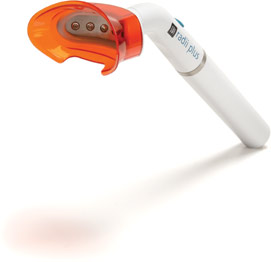 Lightweight, cordless  and compact
When the assembled unit is attached to the bleaching stand you can move it around and position where needed with ease. The entire unit can be safely put away in your cupboard.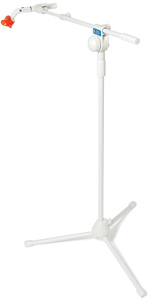 (Actual colour may vary)
Safe heat emissions
Some bleaching lights on the market emit high temperatures that may cause pulpal necrosis. The Bleach Arch LED attachment emits a safe temperature of 98.76°F ± 3.5°F (37ºC ± 2ºC) and the single tooth bleaching attachment will heat to 113°F ± 3.5°F (45ºC ± 2ºC).

The diagnostic LED attachment lights up those hard to see clinical problems that traditional examination procedures can not. It employs a non-invasive technique and is a must have for all dental professionals.

Early detection

The Radii Plus diagnostic LED attachment emits a safe white light which passes through tooth structure. A healthy tooth has an index of light transmission greater than that of decay or calculus. The diagnostic attachment is a great tool to assist you with early caries management.

Safe

The Radii Plus diagnostic LED attachment is ideal for patients who are not suitable for radiographs.

Adjustable brightness

Depending on your requirements,  brightness of the light can be altered from high to low by holding down the on/off button.

Optional diagnostic adapter tip

Should a finer beam of light be required to illuminate sites where access is difficult,  an adapter tip is also available. Simply replace the lens cap with this adapter.

Easily identify:
Cracked tooth syndrome
Depth of a subgingival fracture
Subgingival calculus
Interproximal decay
Caries, where the radiographic image is questionable
Caries removal within a new preparation
Hidden root canal openings
Non-vital teeth
Leaking restorations
Root tips in surgical extractions
Specifications
Technical data for standard Radii Plus unit.
Handpiece (battery, control section and contra angle standard LED attachment)
– wavelength range: 440 nm – 480 nm
– peak wavelength range: 460 nm
– RAMP mode elapsed time
to full intensity: 5 seconds
light intensity: 1500 mW/cm2
(peak)
– duration of continuous use:
NO RAMP mode: 60 seconds
RAMP mode: 65 seconds
– total continuous run time
with fully charged battery: 3 hours 20 minutes
– dimensions: 22mm diameter x 243mm long
– weight: 177g /6.2 ounces
– battery: 7.4V Lithium Ion – 14Wh
Multi-region plug pack
– AC input: 100-240V ~ 1.0A, 50/60 Hz
– DC output: 12V ? 1.5A, 15W MAX
– dimensions: 38mm high x 45mm wide x 70mm long
– weight: 104g / 3.65 ounces
Charger
– time to charge battery: 60 – 180 minutes
– operating temperature: 10ºC – 40ºC
– total height with handpiece inserted: 255mm
– dimensions: 70mm wide x 40mm high x 130mm long
– weight 84g / 3 ounces